This article contains signs of plagerism. Please rewrite it to help us be original!
Asteroids are Randomly Generated structures, by far the most abundant.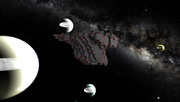 There are different types:
Sand Asteroids
Ice Asteroids
Rocky Asteroids
Molten Asteroids
Purple Asteroids
They contain minerals which can be sold in the shop. It is a good idea to start looking for valuable minerals in them. Very rarely you can find LV5 Minerals which sell for 1 million credits a-piece.
Plextanium
Quantagen
Vappecide
Composition Percentage (Only one sample, results may vary)
Total:13,118
87.4% Red Rock (11,470)
8.1% Red Dirt (1,065)
3.4% Lava (448)
.49% Quantagen L1 (65)
.4% Vappecide L1 (53)
.045% Quantagen L2 (6)
.038% Plextanium L1 (5)
.03% Vappecide L2 (4)
.0076% Quantagen L3 (1)
.0076% Quantagen L4 (1)
Vappecide
Quantagen
Extranium
Orangutanium
Exogen
Composition Percentage (Only one sample, results may vary)
Total:14,734
86.7% Rock (12,776)
9.08% Sand (1,339)
1.88% Lava (277)
.665% Vappecide L1 (98)
.475% Quantagen L1 (70)
.468% Exogen L1 (69)
.434% Extranium L1 (64)
.067% Orangutanium L1 (10)
.047% Extranium L2 (7)
.047% Quantagen L2 (7)
.047% Exogen L2 (7)
.04% Vappecide L2 (6)
.013% Quantagen L3 (2)
.006% Vappecide L3 (1)
'.006% Quantagen L4 (1')
​Ice Asteroid Mineral Composition
Cenomite
Composition Percentage (Only one sample, results may vary)
Total:8,313
65.7% Rock(5,466)
33.9% Ice(2,822)
.18% Extranium L1(15)
.072% Cenomite L1 (6)
.024% Extranium L2(2)
.024% Cenomite L2(2)
Insanium
Quantacide
Negagate
​'​'Composition Percentage (Only one sample, results may vary)
Total:14,407
​87.4% Purple Vine Stuff (12,598)
9.81% Purple Rock Stuff (1,414)
'.825% Lava (119')
.701% Insanium L1 (101)
.527% Quantacide L1 (76)
.492% Negagate L1 (71)
.076% Insanium L2 (11)
.055% Quantacide L2 (8)
.041% Negagate L2 (6)
.013% Quantacide L3 (2)
.006% Insanium L3 (1)